Titanic collection at Ulster Folk and Transport Museum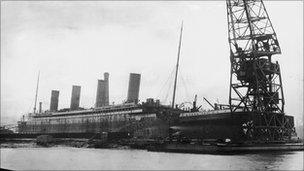 The Ulster Folk and Transport Museum has acquired a collection of more than 7,000 items from the Titanic's parent company White Star Line.
It includes serving dishes and soap from the Titanic, as well as passenger lists, tickets, playing cards and a steward's menu ideas.
The collection will form the basis of an exhibition at the museum to mark the centenary of the Titanic's launch.
TITANICa: The Exhibition will be open to the public on 31 May.
The Titanic sank in 1912 after striking an iceberg on its maiden voyage in the Atlantic. It caused the deaths of 1,517 people in one of the deadliest peacetime sea disasters in history.
William Blair, head of human history for National Museums Northern Ireland (NMNI) said: "For 50 years, from 1869 until 1919, there was never a day when Harland & Wolff did not have a ship under construction for the White Star Line, so this collection reveals much about the maritime and industrial context of Titanic."
The collection was compiled over a lifetime by Paul Louden Brown, vice-president of the Titanic Historical Society. It also includes uniforms, furniture, photographs, diaries, magazines, books and crockery.
Dr Jim McGreevy, director of collections and interpretation for NMNI said: "We were very pleased to have acquired this unique collection of Titanic's parent company which is hugely significant to Northern Ireland's cultural and industrial heritage."
"This acquisition has equipped National Museums with a body of material of international standard which complements its existing archival holdings," he added.
TITANICa: The Exhibition has received funding of almost £1m from Stormont, and should become a permanent fixture at the museum.
It is intended to give an insight into Titanic itself, but also the wider context of Edwardian society.
Related Internet Links
The BBC is not responsible for the content of external sites.