Georgia On My Mind: What was behind McIlroy collapse?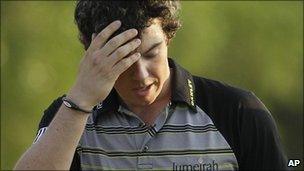 Rory McIlroy's collapse at the Masters in Augusta was painful to watch for anyone who has an affinity with the Northern Irish golfer.
Four shots ahead going into the final round on Sunday, the 21-year-old's descent from the leaderboard was all the more distressing as it was a human drama played out in front of millions.
A few prayers would have been said for the Holywood man at Amen Corner as his game unravelled on the last nine holes, finishing with a score of 80.
But he is not the first major golfer to have succumbed to the pressures of the event, as Australian legend Greg Norman can testify.
Norman, known as The Great White Shark, brought a six stroke lead into the final round of the 1996 Masters, before being reeled in by Nick Faldo.
His comments on McIlroy's reversal of fortune were particularly telling.
"What is it with golf destiny? Isn't it strange?" he said.
"It taps you on the back of your head and it either pushes you ahead or pushes you back."
The psychology of winning is the main focus of the book Bounce by former Commonwealth table-tennis champion and award-winning journalist Matthew Syed.
He admits to a similar collapse to McIlroy's at the Olympics in Sydney in 2000, but said the opportunity for mind games was more pronounced in golf.
"It is absolutely staggering and can only really be explained by the interplay between the pressure, the enormity of what McIlroy was doing and what was within his grasp and the fact that he was unable to play the game that he knew he was capable of," he said.
"It was pressure and it was psychological.
"What makes golf such a remarkably unnerving sport is you have so much time between shots - in terms of my old sport table tennis you are interacting and the ball is travelling at 100mph so you have very little time in which to think.
"McIlroy, when his shot went amongst the cabins would have had minutes to ponder and reflect upon the fact that he was about to throw away the biggest opportunity of his career."
Syed said some players had been "spooked" by spectacular slip-ups in the past and hoped this was not the case with McIlroy.
Sports psycholgist Michael Caulfield, who recently worked with the Ireland cricket team at the World Cup, does not see any cause for concern however.
He said the Ryder Cup star had a "supreme skills base" and would have "many more chances to compete in the final round of a major championship".
"Rory performed beautifully for three and a half rounds and was still in front until the 10th tee, let's not forget that," he added.
"He got some horrible luck on one of the holes and we all need a bit of luck.
"He didn't get it with that drive which ended up in someone's back garden.
"It was awful to watch after that, but I think if he talks about it too much and recalls it too much it would hang over him for too long."
As for Rory, on the face of it, he appears to be taking things in his stride.
The celebrity tweeter is not mulling over missed birdies if his Twitter messages are anything to go by.
Instead he had only praise for the 2011 Masters champion, Charl Schwartzel, and was looking at matters in a positive light.
"Well that wasn't the plan!" he said.
"Found it tough going today, but you have to lose before you can win.
"This day will make me stronger in the end."