£180,000 Newtownabbey drugs haul on display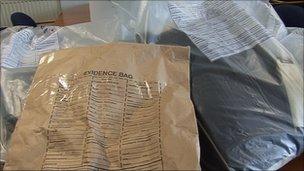 Police in Newtownabbey have put on display a huge haul of drugs found last week.
They were found by police officers after they stopped a car at a routine check point and in follow-up searches in the area.
It is estimated that the drugs are worth about £180,000.
Cannabis resin and herbal cannabis made up the majority of the drugs, but amphetamines and 1kg of cocaine were also seized.
Three men have already appeared in court charged in connection with the haul.