Coleraine man admits raping woman in her home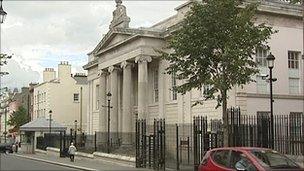 A 19-year-old man has pleaded guilty to raping and sexually assaulting a woman in her home.
Shaun Mark Anthony Hegarty from Lodge Road, Coleraine, was due to go on trial for the offences.
However, at a hearing of Londonderry Crown Court on Monday he asked to be re-arraigned and pleaded guilty to attacking the woman.
Judge Piers Grant ordered a victim impact statement to be prepared ahead of sentencing on 16 May.
The victim, who is her 20s, was in court to hear Hegarty's guilty plea. The attack took place at her County Londonderry home in February 2010.
Hegarty was remanded in custody and placed on the sex offenders register.
The period he remains on the register will be determined when he is sentenced next month.