NI house prices will drop further says RICS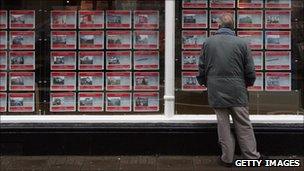 House prices in Northern Ireland will continue to fall this year, according to a survey by the Royal Institution of Chartered Surveyors.
A report by RICS and Ulster Bank shows prices are expected to go down over the next three months.
Reduced household incomes and a growing number of house repossessions are to blame for the prolonged dip in the market, according to RICS.
However, falling prices have led to an increase in house sales.
RICS recorded a rise in the number of properties sold during the past three months.
This trend is expected to continue for the three months ahead.
RICS housing spokesman, Tom McClelland said: "It is clear that consumer confidence remains low due to high inflation, as well as the measures that have been put in place to deal with the UK deficit and due to the general economic environment.
"Household incomes are falling in real terms, and interest rates will rise, but will likely still be very low in historic terms for some time.
"However, where asking prices are realistic, sales will take place, and this will continue to be the case."
Mr McClelland said some sectors of the market are seeing steady activity. These include houses priced under £125,000 and keenly priced new build homes.
Related Internet Links
The BBC is not responsible for the content of external sites.