Woman suffers fractured skull in Holywood hit and run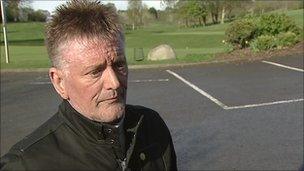 A 49-year-old woman has suffered serious head injuries following a hit and run collision in Holywood, County Down.
The crash happened at the Holywood Golf Club at 0110 GMT on Monday.
Julie-Ann Alexander was hit by a vehicle in a car park. The car did not return to the scene.
Her brother, Raymond Alexander said his sister has a fractured skull and bleeding on the brain.
"She is in a really bad state in hospital. She is obviously unconscious," he added.
"Her fingers seem to be bruised as well, as if she had her fingers caught in a door."
A spokesperson for the Royal Victoria Hospital in Belfast said the victim's condition is "stable".
Police have appealed for help in tracing the car involved, which they believe was grey in colour with County Monaghan number plates.
Ms Alexander spent Sunday evening at the golf club watching Rory McIlroy's challenge at the US masters.
Her brother said the crash was a "sad end" to what should have been an enjoyable night.
"What I am appealing for is any witnesses who may have walked into the car park between 1am and 1.20am to come forward."