Dungiven boxer Paul McCloskey says he can beat Kahn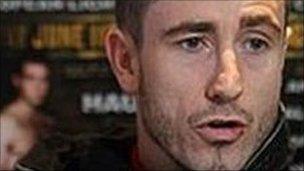 Dungiven boxer Paul McCloskey says he is confident he will win Saturday's world title fight against Amir Khan.
The European Champion is unbeaten in 22 fights.
The WBA light welterweight title fight against Amir Khan will take place in Manchester on 16 April.
"I'm in the best shape of my life which will be obvious this weekend, Amir Khan is a great fighter but I have no doubt I can beat him," he said.
He also spoke of the recent row over television rights after Khan became embroiled in a dispute with Sky.
"What has happened won't affect my agreement or my performance, but I'd have preferred it to be shown on Sky Sports as it has a bigger viewing audience."
Khan's purse is understood to have been substantially reduced, but he played down the issue on Monday.
However Paul McCloskey believes it may distract him.
"It's not going to make him feel any happier, its a negative thing in his head at the moment."
The fight will now be shown by pay-per-view station Primetime TV.