PSNI to review why cones removed at Newry alert scene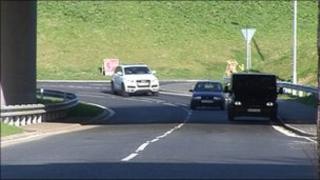 Police are to carry out a review on Tuesday into why hundreds of motorists were allowed to drive past a van containing a 500lb bomb in Newry.
The underpass on the main Belfast to Dublin Road was closed after the suspect vehicle was found by police, but cones were later removed.
The PSNI said the cordon had been removed by motorists.
The alert began around 2300 BST on Thursday after two bomb warnings were received.
Chief Superintendent Alasdair Robinson said on Monday that some members of the public had "breached" the police cordon.
He said his officers had set up the cordon and believed it to be complete.
Mr Robinson said police had re-established a security cordon when they discovered that cones had been removed, which had allowed motorists to drive past the van containing the bomb.
Police described the 500lb bomb as "sophisticated and substantial".
The Newry and Mourne District Policing Partnership met on Monday night to discuss the incident.
Its chairman, David McCauley said it would investigate if the area should have been cordoned off more effectively.