Ballymena boy Joe McCudden saves mum after stairs fall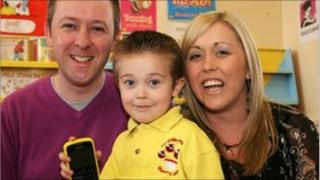 A four-year-old boy used his mother's mobile phone to call for help after she fell down the stairs at their home in Ballymena.
Joe McCudden found his mum Shirley lying unconscious at the bottom of the stairs, and managed to look up his father's number on her Blackberry.
Shirley suffers from epilepsy, and had a seizure on the landing which caused her to fall.
Joe has been hailed as a "hero" by his parents and teachers.
His father James told the BBC what had happened.
"I was at work and the phone rang, and Shirley's number came up," he said.
"When I heard Joe's voice it came into my mind that something was wrong.
"He told me that she'd fallen down the stairs, so my instant reaction was panic and I managed to make my way home.
"I found her lying at the bottom of the stairs having had a seizure. Joe and his younger brother Charlie were standing over her."
First, Joe managed to unlock his mother's phone. Then, recognising that his name began with the same letter as his father's, he typed that in and found his father's number.
'Our wee hero'
Shirley spent a couple of weeks in hospital recovering.
She spoke of her amazement at what her son had done, preventing her from lying for hours without medical attention.
"I never thought at all that he could manage to do it," she said.
"Blackberrys aren't the easiest phones to work.
"He was very brave. We are very proud of him."
Leslie Meikle, principal of Harryville Primary School where Joe attends nursery, praised his "incredible" actions.
"He's just our wee hero," she said.
Harryville Primary school have nominated Joe for the Daily Mirror Pride of Britain awards for his bravery.
However it is unlikely he will be too interested in such accolades.
It is a safe bet to assume he will be preoccupied with the reward his proud parents have already given him: a brand new Nintendo DS.
Speaking to the Ballymena Times, a modest Joe summed up his actions as only a four-year-old can: "I rang daddy because mummy was sick. I think I saved mummy's life," he said.