Cost of Queen and Obama visits worries Irish police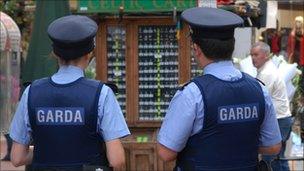 The main representative body for Irish police is concerned that most of the Garda's annual budget will be spent on big policing events next month.
In particular, it expressed concern over the state visits of Queen Elizabeth and President Obama.
All Garda leave is expected to be cancelled and millions of euros will be spent on overtime next month.
The Garda Representative Association (GRA) is concerned there will not be enough money left for regular policing.
The GRA is due to seek assurance from Garda Commissioner Martin Callinan at its annual conference on Tuesday that there will be funding available for necessary regular police work.
Members of the police at the conference reacted with dismay to the Irish government's announcement of further austerity measures.
Delegates said they were very aware of the security threat posed by international terrorists and dissident republicans to the two state visits next month.
They complained that while the PSNI has been given an extra £245m to tackle the dissident republican threat this year, the budget for the Garda's operation against organised crime has been cut from 21m euros (£19m) to 10m euros (£9m).