Private firms to bid for orthopaedic operations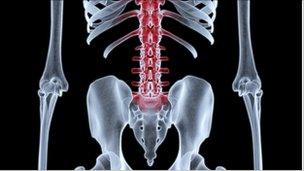 Private health firms could soon be carrying out thousands of orthopaedic operations on NHS patients in NI.
The NI Health and Social Care Board placed an advert in newspapers seeking expressions of interest over the assessment and treatment of patients.
Operations like hip replacements, upper limb and spine operations are usually performed at Musgrave Park Hospital.
A Health and Social Care spokesperson said demand for this type of treatment exceeded NI hospitals' capacity.
"This is to help more patients get orthopaedic care within the waiting times set by the Department of Health, these being nine weeks for a first outpatient appointment, and 36 weeks for inpatient and day case treatment," he said.
"At present these services are provided to patients in Northern Ireland through the Belfast, Southern and Western Health and Social Care Trusts, at Musgrave Park, Craigavon Area and Altnagelvin hospitals respectively.
"The board will in due course contact those organisations that express an interest, and provide them with a detailed service specification, with the aim of completing the tendering process later this year."
It is likely private hospitals and clinics and other NHS hospitals across the UK will bid for the contract.
The advert said the Health and Social Care Board would like to commission a package of care which includes Northern Ireland based assessment of patients.
It said the package also needs to include the capacity to undertake surgical procedures, post operative and rehabilitation care and outpatient care.
The advert also said more than one provider could be selected. The closing date for interest is 22 April.