Supreme Court rules Nama is constitutional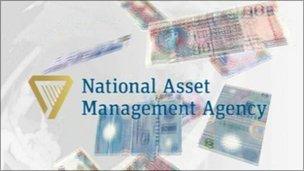 Ireland's Supreme Court has ruled that the legislation governing the country's National Asset Management Agency is constitutional.
However, it also found that developer Paddy McKillen should have the right to make representations to the agency before his loans are acquired.
Nama was set up as part of the response to the Irish Republic's property and financial crisis.
Its job is to buy and manage property loans held by Dublin-based banks
The court was giving its decision on the remaining elements of Belfast-born Mr McKillen's challenge to Nama.
Last month it ruled that the original decision to take in Mr McKillen's loans was invalid, because it was made before the agency was officially established.
That overturned an earlier decision by the Republic's Commercial Court which found against the property tycoon.
On Tuesday, the Supreme Court did not agree that the definition of eligible bank loans in the Nama legislation was too broad and was unconstitutional.
But it unanimously found that Mr McKillen and his companies, and people such as them, do have the right to make representations before any decision is taken to acquire their loans.
Nama has not yet made a decision to acquire Mr McKillen's loans.
Mr McKillen and his companies owe more than 2bn euros to banks participating in the agency.
Related Internet Links
The BBC is not responsible for the content of external sites.