Young drivers quoted up to £27,000 for car insurance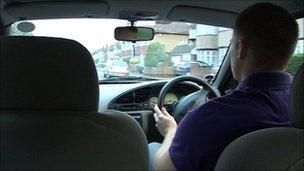 Spiralling insurance premiums are driving many young motorists off the road, according to research carried out by the BBC.
Some young drivers are faced with quotations of up to £27,000 a year to insure their cars.
More typical rates of £2,000-3,000 still represent a heavy financial burden for many novice motorists.
The high costs have been attributed to a lack of competition in the sector.
In Northern Ireland young drivers are insured by just three companies, AXA, Aviva and Quinn Insurance.
The age group is seen as high risk and many companies use exorbitant quotes to dissuade interest from people aged 17-20.
Figures published by a local price comparison company show that newly qualified drivers here are typically being quoted around £3,600 pounds.
A young female driver currently pays between £1,500-2,000 a year for motor insurance - while a 17 -year-old male can expect to pay £2,500-3,000 for a small car with no modifications.
Across Northern Ireland there are growing numbers of people aged 17-20 who have found themselves grounded because of the increasing cost of insurance.
The consumer council said young drivers are facing a 51% hike in premiums.
Rising rates are also tempting some families to name a parent as the principal driver when in fact a car may actually be used mainly by a young driver.
The practice is called "fronting" and both the insurance industry and the police confirm it is on the increase.
Investigations resulting from claims can quickly establish the pattern of car use and an insurer may well down grade cover from comprehensive to third party.
However, some companies claim that the new higher rates still do not cover the risk newly qualified drivers pose.
Almost a fifth of all new drivers are involved in a collision within their first six months of driving.
Between 2004 and 2008, young drivers were responsible for 66 deaths and 439 serious injuries.