Second arrest in Donaldson murder probe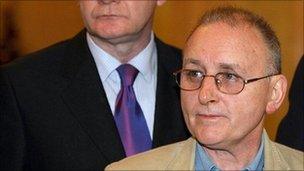 Irish police have arrested a second man, aged in his 30s, in connection with the murder of IRA informer Denis Donaldson.
It follows the arrest of a 70-year-old man in Donegal on Tuesday.
Mr Donaldson, 56, a senior Sinn Fein official, was shot dead at a remote cottage in Doochary, County Donegal in April 2006.
Four months earlier, he had been expelled from the party after admitting being a paid British spy for 20 years.
No-one has ever been charged with his murder. The two men were arrested on Tuesday evening.
It is understood the 70-year-old man was arrested in south west Donegal under the Offences Against the State Act on suspicion of withholding information.
Both men are being held at Letterkenny police station. They can be held for up three days.
Mr Donaldson was last seen by the Irish police in Glenties on 3 April 2006, about 24 hours before he was murdered.
His body was discovered by a member of the public, who noticed his door open and dialled 999. He had been shot twice, once in the head and once in the arm.
Last week, his family called on the Garda and Police Service of Northern Ireland to do more to bring his killers to justice.
In a statement issued through solicitors, they claimed British security agencies had a part to play in his death.
Commenting on the case, Donegal journalist Stephen Maguire said: "When it was found out that he was an informer in 2005, Denis Donaldson moved to County Donegal. No-one knew he was here. He lived in a very remote area... about 10kms from Glenties."
Mr Maguire said a neighbour who called at the house, discovered Mr Donaldson dead in a "very grisly scene".
Mr Maguire said the family was anxious to have an inquest: "They want to get this done and dusted and find out as much as they can from the inquest."
A series of pre-inquests have been held and the coroner is aware of the family's suffering, he said.
"He knows how much pain the Donaldson family are going through. He asked gardai to try and get their house in order. Now we have these arrests."
Denis Donaldson was arrested after police raided Sinn Fein's offices at Stormont, where he worked as the party's head of administration, as part of an investigation into republican intelligence gathering on October 2002.
His arrest, along with two other men, became known as Stormontgate - a republican spy ring at the heart of government.
It caused the collapse of the devolved power-sharing administration. But in 2005 the charges against the three men were dropped.