Cameron urged to open Dublin/Monaghan bomb files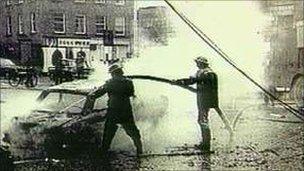 The prime minister has been urged to open up files on the Dublin/Monaghan bombings to coincide with the 37th anniversary of the attacks.
The families of 34 people, including an unborn child, who died in the atrocity have called on David Cameron to reveal Britain's role in the bombings.
They have asked Mr Cameron to make an announcement on the anniversary of the attacks on 17 May.
The date also marks the first day of the Queen's historic visit to Ireland.
Margaret Urwin from Justice for the Forgotten, an organisation which represents the victims, said it would be a "significant gesture of reconciliation".
"What we would like would be that he (David Cameron) would make an announcement to coincide with the visit of Queen Elizabeth, that he is going to make the documents that were withheld available.
'Extraordinary coincidence'
"By available, I mean available to an independent figure. We are announcing this now so there is time for this to happen.
"It is an extraordinary coincidence that Queen Elizabeth should be arriving in Ireland on the 37th anniversary of the Dublin and Monaghan bombings.
"It was the greatest atrocity of the Troubles in terms of loss of life, the greatest loss of life in a single day.
"We think this is a golden opportunity for the British Prime Minister David Cameron to announce that he will open the files and make the documents available that the previous British government withheld from the Barron Inquiry.
'Gesture of reconciliation'
"All requests since then have fallen on deaf ears.
"We are seeking that our own Taoiseach (prime minister) Enda Kenny will put pressure on the British Prime Minister to make this significant gesture of reconciliation," Ms Urwin added.
It has been claimed that loyalist paramilitaries, the UVF, carried out the four explosions with the assistance of British intelligence.
No-one has ever been prosecuted in connection with the bombings.
The Barron Report into the bombings was published in November 2004.
Mr Justice Henry Barron concluded that he was "surprised and disappointed" by "the failure of the British authorities" to co-operate with his inquiry.
Related Internet Links
The BBC is not responsible for the content of external sites.