Limavady traders angry at plans for parking charges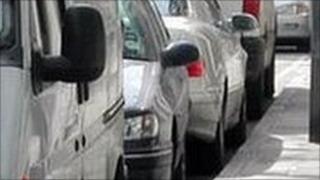 Traders in Limavady have launched a campaign against proposals to introduce on-street parking charges.
The Department of Regional Development announced the plans last month as a means of raising £37 million in revenue over the next four years.
Philip Kingston, the President of the Roe Valley Chamber of Trade, criticised the decision by DRD Minister Conor Murphy to introduce parking metres.
"This will have a negative impact on local business," he said.
"We don't need something like this to make things more difficult in already difficult economic times."
Currently only three cities in Northern Ireland have on-street parking charges - Newry, Lisburn and Belfast.
The proposal is for these charges to be extended to 30 other towns and cities.
The charges could be implemented as early as next year.
Not only would more people pay for parking, there is also a plan to have them paying for longer.