Man convicted of Eamonn Hughes birthday party murder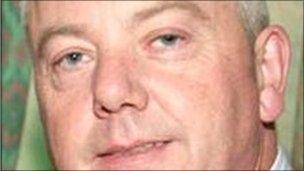 A man has been convicted of the murder of Eamonn Hughes, 49, in Dungannon in September 2008.
Martin Murray, 23, from Windmill Drive, in the town, was found guilty at Laganside Court on Wednesday.
Liam Murray, 24, and Kevin Toye, 24, from Windmill Court, Dungannon, and William McDonagh, 25, from Kew Gardens in Ballymena, were acquitted of the murder.
Toye was convicted of the attempted murder of two women at the scene.
Martina Donaghy and her daughter Emma were run over by Toye in a stolen taxi as they tried to help Mr Hughes.
Mr Hughes was stabbed on 13 September 2008, as he walked home from a club in Dungannon after his daughter's 18th birthday party.
The trial heard there had been a brawl in the street following an earlier disturbance at the party in a local club.
Martin Murray had admitted having a knife and stabbing Mr Hughes but had claimed it was in self defence.
The judge, Mr Justice Tracey rejected that argument and convicted him of murder.
The four men had hijacked a taxi which was used to travel to the scene and run down and seriously injure two women who had been giving first aid to Mr Hughes.
Toye, who had been driving the stolen taxi, was convicted of the attempted murder of both women, but the others were acquitted of the same charge as they had been passengers in the vehicle.
A fifth defendant, Kevin Murray, 41, from Lisnahull Gardens had been accused of the attempted murder of Mr Hughes' son, Kevin, who was shot with a cross bow during the disturbance.
Kevin Murray was acquitted on the grounds that there was insufficient evidence to prove that he had been trying to kill Kevin Hughes.
After the verdicts, Mr Hughes' widow Eileen said she was disappointed and that "justice has not been done".
Mrs Doherty, who was knocked down by the hijacked taxi, said she felt numb after the verdicts.
"We're lucky to be alive. We will have to carry our injuries, but they have lost a father, Eileen has lost her husband.
"We need peace in the town and they need to be put away for a long time," she said.