Orange hall fire on Crumlin Road treated as sectarian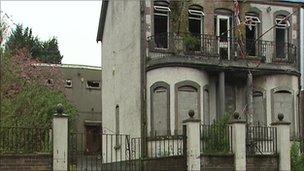 Police in north Belfast are treating a fire which damaged an Orange hall on Tuesday night as a sectarian attack.
It is believed the fire, which was reported shortly after 2350 BST, was started in a derelict building close to the property.
The Orange hall, which is on the Crumlin Road, received extensive damage in the incident.
Police have said they believe the fire may have been malicious, and are appealing for more information.