Northern Ireland lawyers withdraw over legal aid row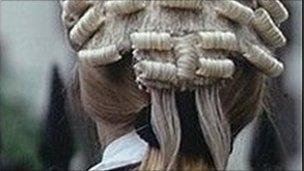 Defence lawyers have said they will stop work on serious criminal cases in an escalating dispute over legal aid fees in Northern Ireland.
Announcing cuts to legal aid last month, Justice Minister David Ford said the move would save £18m.
Defence lawyers have responded by declaring a withdrawal of services in serious criminal proceedings.
They argue that the amendments will leave them unable to prepare crown court cases properly.
A Department of Justice spokesperson said the new fees for Northern Ireland have been the subject of intensive discussions with the legal profession and full public consultation
"The new fees for legally aided work in the crown court came into force this morning," the spokesperson said.
"The new system of fees, bespoke for Northern Ireland, are fair and remain more generous than England and Wales.
"Over the past decade, spending on crown court legal aid has more than tripled, rising from £13.7m in 2000/01 to £44.7m in 2009/10.
"That level of public expenditure cannot continue unchecked and the legal aid bill must be subject to the same value for money challenges as other public expenditure.
The lawyers involved said they were prepared to accept some reductions, but that the cuts go too far.
Under the rules set out by Mr Ford, enhanced rates paid out in 'Very High Cost Cases' are to end.
Fees to solicitors in standard cases are to be reduced by 25% under changes in the Legal Aid for Crown Court Proceedings (Costs) (Amendment) Rules. Barristers' rates will also drop by 20% as part of the changes.
On Wednesday, defence solicitors signalled they will not be there to represent clients facing charges up to murder when they pass to the crown court.
With barristers depending on these lawyers for their instructions, it means any legal representation is highly unlikely unless a solution is reached.
However, preliminary enquiry hearings will still go ahead at magistrates court level.
Solicitor Eoghan McKenna confirmed the move at Belfast Magistrates Court on Wednesday as one of his clients was returned for crown court trial on charges of rioting and throwing a petrol bomb.
"I note that these new rules will involve a global reduction of 53% in criminal legal aid in crown court cases," he said.
"I believe that these rules undermine the quality of the criminal justice system and will lead to a two-tier system of justice for those who can afford a proper defence and those receiving public funds.
"I will therefore not be applying for a defence certificate in this case and I am now coming off record in this case."
Following his announcement another solicitor told the court: "That sentiment is supported by his colleagues."
In a statement, the Bar Council said: "The Bar acknowledges the well founded concerns of solicitors that these rules will give rise to a two-tier system of justice.
"The introduction of today's rules will have a marked effect on the quality of representation provided to the public in the most serious trials in the crown court."