Widow begged Eamonn Hughes not to die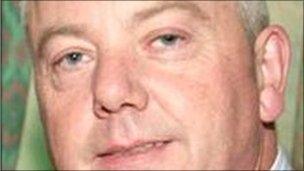 The widow of Dungannon murder victim Eamonn Hughes has said she begged him to live as he lay dying by a roadside.
On Wednesday, Martin Murray, 23, from Windmill Drive, in Dungannon, was found guilty of murdering Mr Hughes in September 2008.
The 49-year-old died after being stabbed by Murray as he walked home from a club in Dungannon after his daughter's 18th birthday party.
Eileen Hughes said no words could describe her loss.
"I loved him dearly. He was a gentleman, he did a lot of work for the community, he was a good father, grandfather," she said.
"There can't be justice for us because nothing's going to bring Eammon back."
Mrs Hughes said she had pleaded with her husband not to die after the stabbing.
"My husband lay dying at the side of the road," she said.
"I begged him not to die, I begged God to take me instead. I couldn't live without him."
The Dungannon woman said a night which had started out with her daughter Siobhan's 18th birthday party had turned into a "bloodbath".
"That night on that road was a nightmare.
"Just coming from a party - Siobhan's 18th birthday party - we came onto the road unaware of what was awaiting for us.
"And for everything to just develop into a bloodbath - and that's what it was, there was a complete bloodbath on that road."
Three other men were acquitted of Mr Hughes' murder on Wednesday, although one, 24-year-old Kevin Toye, was convicted of the attempted murder of two women run over by a hijacked taxi.
Mrs Hughes said while her family could never find justice, dangerous people had been taken off the streets.
"We can't get my husband back, the children can't get their father back, but hopefully it saves some other family from going through what we're going through - I wouldn't wish it on anybody," she said.
The widow described the acquittals of some of the accused as "a farce".