Ronan Kerr murder senseless says Dalai Lama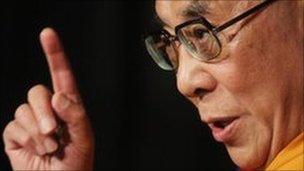 The Dalai Lama has described the killing of police constable Ronan Kerr as senseless.
The spiritual leader of Tibet, who is on a visit to the Republic of Ireland said people should criticise, but should not allow anger to come into their thoughts.
The police officer who was 25, died when a bomb exploded under his car in Omagh on Saturday 2 April.
The Dalai Lama is visiting Dublin, Kildare and Limerick.
He is in Ireland at the invitation of Children in Crossfire, a peace group established by Richard Moore in Londonderry.
He was questioned by journalists in Dublin on Thursday about the killing of PSNI officer Mr Kerr in Omagh.
Holding Mr Moore's hand throughout the 30-minute press conference, he said the killing was "senseless".
The Dalai Lama said such acts did not solve problems but if anything, only increased divisions.
On Thursday, he is due to visit the University of Limerick to talk about the virtue of forgiving.
Related Internet Links
The BBC is not responsible for the content of external sites.