Game of Thrones and Natalie Portman put spotlight on NI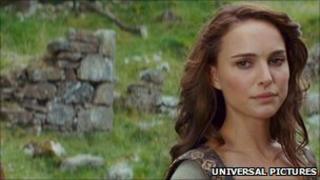 The landscape and the studio facilities of Northern Ireland are about to grab worldwide attention with the release of the most exciting movie and TV productions to come from the region.
There are high hopes that an extension of a lucrative television series could bring economic benefits for years to come.
The last two years have seen frantic movie activity at the Paint Hall studios in Belfast and in numerous countryside locations all over Northern Ireland.
The first of the Hollywood projects to begin shooting was a feature film: "Your Highness" for Universal Pictures.
It was enticed by Northern Ireland Screen finance of £1m and was claimed as a major coup by politicians. Now the public gets to judge whether it is a critical success, as it opens in cinemas on 13 April 2011.
It's a comedy fantasy spoof, set in medieval times and has an impressive cast list including Hollywood actors Natalie Portman (Black Swan), James Franco (127 Hours) and Danny McBride (Pineapple Express).
It's the story of one perfect, brave prince and his weak and cowardly brother. They are confronted by a female warrior, played by Natalie Portman, who is smarter than both of them.
The actors and crew spent months in Belfast and around Northern Ireland. The director, David Gordon Green, is happy with his experience in Northern Ireland.
"Belfast was chosen as a location because it has a great workforce, beautiful natural landscape and also because they had these massive sound studios which they would give us for free," he said.
'The perfect location'
But the project with the biggest contribution from the government and with the greatest potential for economic benefit is the HBO series Game of Thrones which is screened on Sky Atlantic TV from Monday 18 April 2011.
It too is a medieval fantasy, but much darker and with violence. It's a dramatisation of the first book of the cult "A Song of Ice and Fire" series of novels by George RR Martin.
It shows two worlds, the dark north, set in Northern Ireland, and the sunny south, filmed in Malta.
Warring factions in the north are swaddled in heavy leathers and furs while clothing in the south is more minimalist.
A pilot episode of the drama so impressed HBO that Northern Ireland became the main location for the ten episodes of the first book, Game of Thrones.
There was a financial attraction there too, use of the Paint Hall studios again plus a total of £3.2m from Invest NI , channelled through Northern Ireland Screen.
The central role of Eddard Stark is taken by the English actor, Sean Bean.
"Northern Ireland was the perfect location, the people were very supportive and we employed a lot of local craftspeople and trades people. It was a good place to work, very friendly," he said.
A multi-million pound contribution will expect some payback but, although the first series is complete and ready for broadcast, it is not yet clear how much the economy has benefited.
If it follows recent trends, a payback of ten times the investment would not be surprising.
As Game of Thrones is screened, all concerned will be waiting to see if it is a big enough success to warrant another series, again using the Paint Hall studios and the surrounding countryside.