NI councils pay employees 62% extra on mileage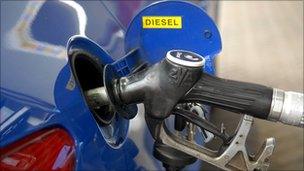 It has been revealed that almost all of Northern Ireland's councils are reimbursing their employees at a far higher mileage rate than has been recommended by the UK government.
The figures were obtained by the Taxpayers' Alliance which investigated councils across the UK.
Twenty four of the twenty six councils here responded. They each pay staff up to 65p per mile.
The price approved by Revenue and Customs is 40p per mile.
That equates to councils paying up to 62% more than the recommended amount.
In 2009 to 2010, Belfast City Council paid the highest amount in staff mileage, at £495,758.
The next highest payment was made by Armagh City Council which paid £398,379 in the same period, while Coleraine Council's mileage bill was third-highest at £313,566.
The Taxpayers' Alliance also said a significant number of councils could not provide mileage data.
Northern Ireland Local Government Association vice-president Arnold Hatch accused the Taxpayer's Alliance of "nit-picking" because people were "only doing their job".
"If you take the cost of running a vehicle, including maintenance et cetera, even to change a set of tyres, is £400," he said.
"They don't get paid for taking their car to work, for example.
"They are not making money. Anybody getting 65p has to report that on their income tax return and it would be subject to tax."
Related Internet Links
The BBC is not responsible for the content of external sites.