Rail tragedy boy Ryan Quinn called on father to help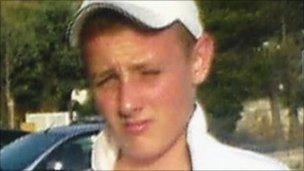 A 14-year-old boy trapped on a railway line in front of an oncoming train, made a frantic mobile phone call to his father moments before he was killed.
Ryan Quinn died when his knuckle became jammed in a cattle grid and he was struck by the Coleraine to Portrush train in January 2009.
An inquest was told by his father, Ivan, the boy was chased onto the line after being attacked at a Portrush bar.
He said his son became hysterical, begging him to come quickly.
The coroner heard that Ryan Quinn was three times over the legal driving limit for alcohol when he was killed.
A pathologist's report said he had bruising to his left hand consistent with being stuck in a cattle grid.
Train driver Ian Cairns said he believed he had seen somebody running away from the line a split second before the collision.
"I suddenly had a flashback, it was so vivid it gave me goosebumps," he said.
"I am convinced there was someone else on the track prior to the train hitting Ryan Quinn."
His first statement to police made no reference to seeing anybody else.
The coroner found that Ryan had died from multiple injuries after being hit by a train.
He expressed concern about the amount of alcohol in his system and said he believed there were people who knew what happened that night who had not come forward.
Outside the court, police said they were still investigating the death and treating it as murder.