Bombardier 'did not discriminate' in harassment case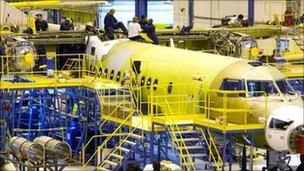 A tribunal has found that aerospace company Bombardier did not discriminate against an employee who was the victim of a campaign of sectarian harassment.
The fair employment tribunal accepted that Paul Breen had a bullet put in his work locker in November 2005.
He also received threatening phone calls and texts after that incident.
However, it ruled that Bombardier had called the police in to investigate the incidents and had not treated Mr Breen differently because of his religion.
Mr Breen was employed as an aircraft fitter from June 2000 until he resigned in December 2006.
In November 2005, Mr Breen found a bullet in his locker accompanied by a letter referring to his religion and saying his name was on the bullet.
When he reported this to his employers they contacted the Harbour Police to investigate it.
Before this Mr Breen had received calls to his home accusing him of involvement with republican paramilitaries and he received death threats after the locker incident.
He subsequently reported incidents to police in which he said he had been threatened by unknown men.
Three other Catholic employees at the factory also received threatening texts in 2007, some of which referred to Mr Breen.
The tribunal said the intimidation involved people who either worked at Bombardier or who knew people who worked there.
However, it found that although Bombardier had failed to implement its policy on intimidation and harassment, it had done so because it believed the police were better equipped to investigate the incidents, given their seriousness.
It also said Bombardier had met with Mr Breen frequently and had repeatedly asked him what it could do to help him and help identify those behind the intimidation.
It also ruled that Mr Breen would not have been treated any differently by his employer had he been a Protestant.