Belfast lawyer jailed for drawing on £83k pension fund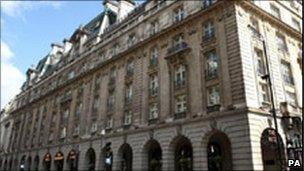 A Belfast solicitor who walked free after stealing nearly £500,000 in a mortgage fraud has been jailed for flouting a ban on moving any assets.
Philip Krown, 55, was ordered to serve six months in prison for contempt of court.
Krown drew down an £83,000 pension fund in breach of an injunction.
He has used a number of aliases and was once known as William Philip Crossey, running a legal firm in east Belfast.
Krown first shifted the money to an Isle of Man bank account last year.
Only £16,000 seized by police from a safety deposit box in London has been recovered from the fund.
A High Court judge held that Krown had given misleading and dishonest statements and acted "in flagrant breach of a court order".
Mr Justice Deeny said: "It's clear a lot of it was spent on unnecessary and pleasurable activities, money that rightly belonged elsewhere."
Krown was previously given a suspended four year jail sentence in November 2009 for siphoning off funds to go on "a hedonistic adventure".
He blew £445,000 acquired from re-mortgaging his home in Groomsport, County Down.
Krown opened a Swiss bank account and then used the cash to rent an apartment in the Kensington area of London, travelled extensively to his wife's home country of Colombia as well as Europe, had an expense account at The Ritz Hotel in London and purchased expensive jewellery.
The Law Society launched contempt proceedings against him for breach of an injunction granted to the body as having power of attorney over his financial affairs.
The court heard that out of nearly £400,000 he transferred out of Northern Ireland as part of his original fraud, just over £8,000 has been recovered from two Swiss bank accounts.
John Maxwell, for the society, argued that the earlier suspended sentence, based on the now struck-off solicitor's medical conditions, represented "a remarkable result".
"The court has already given Mr Krown the benefit of the doubt," he said.
"Despite having that second chance, in respect of this court he has shown utter contempt for its order and dealt with this money in a way that was entirely inappropriate."
However, with the Legal Services Commission carrying out an ongoing probe into Krown, his barrister urged the judge not to send him to jail.
Frank O'Donoghue QC argued that his client had already suffered public humiliation due to a "fall from grace" from a previously successful legal career.
As Krown sat head-bowed throughout the hearing, Mr O'Donoghue said his client had become a "complete social and professional pariah".
The court was told the solicitor is on benefits, living in a rented flat in Ballymena, County Antrim, and has split up from his second wife.
A chronic diabetic, his condition resulted in one leg being partially amputated. His other leg is also severely ulcerated.
Mr O'Donoghue said: "Simply put, Mr Krown has undergone such a change in his personality traits and character that it is extremely difficult to recognise the man he once was."
Although Krown could have been jailed for a maximum of two years, the judge took into account medical reports and that the money involved came from Krown's own pension fund.