'£10 jeans theft' woman charged with intimidation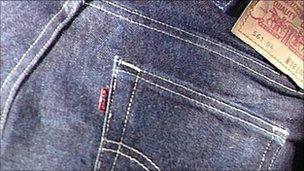 A woman jailed after being found guilty of stealing jeans worth £10 has been charged with intimidating a witness.
Alison Hewitt, 27, from Patterson Park in Strabane, is alleged to have committed the offence against a witness during her trial for theft in December.
She is charged with intent to cause the course of justice to be obstructed, perverted or interfered with.
Ms Hewitt is alleged to have followed the witness from the court house and photographing her car.
During her theft trial at Londonderry Crown Court, the alleged intimidation offence was withheld from the jury by order of trial judge Piers Grant.
The four-day trial heard that she took three pairs of jeans into a changing room, along with her young daughter in a pram, but only returned two.
Ms Hewitt, a single parent was originally sent to jail for three months, but spent two days in custody in Hydebank Prison before she was released on bail pending appeal.
The severity of the punishment handed down to a first-time offender provoked widespread public shock.
Earlier this month, the Court of Appeal ruled the original sentence was "manifestly excessive" and ordered her to serve 100 hours community service instead.
Ms Hewitt will appear in court again on the intimidation charge on 12 May.