Sir Declan Morgan: Judges 'should hear from victims'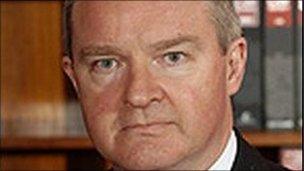 Sentencing judges need to hear victims' voices setting out the harm they have suffered, the head of Northern Ireland's judiciary has said.
Sir Declan Morgan was delivering the first official speech in west Belfast by a serving lord chief justice.
He emphasised the development of victim impact reports and community impact statements in helping to give judges a full picture.
He referred to discussions he had had with groups across Northern Ireland.
He outlined the problems put to him by householders plagued by joyriders, families struggling to get help for a drug addicted teenager, or pensioners afraid to leave their home because of anti-social behaviour.
The lord chief justice said the use of victim impact reports and victim impact statements had developed at the request of judges anxious to have as much information as possible from and about those who have suffered from serious crimes.
Written by experts or by the victim or their family, Sir Declan said the reports helped judges to understand the impact of the crime in the real world.
He added that hearing the victim's voice speaking of the harm done to them helped to acknowledge their needs and assisted the judge in setting an appropriate sentence.
Referring to the recent concept of community impact assessments, he said the judiciary increasingly recognised that some crimes don't just affect the individual, but also others living in the same area.
Sir Declan was speaking at an 140th anniversary event at St Dominic's High School.