New inquest into Colin Howell/Hazel Stewart victims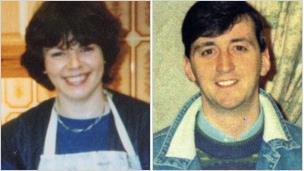 A new inquest has been ordered into the deaths of two people murdered by the dentist Colin Howell and his lover Hazel Stewart.
The original inquest into the deaths of Trevor Buchanan and Lesley Howell ruled they had died from suicide in May 1991.
However, following an admission of guilt by Howell and the later trial of Hazel Stewart, it emerged the pair had gassed their partners.
They then concocted an elaborate story to cover their tracks.
The new inquest has been ordered by the Northern Ireland Attorney General John Larkin.
Trevor Buchanan, a 32-year-old policeman and Mrs Howell, 31, were found in a car in a fume-filled garage in the seaside town of Castlerock, County Londonderry.
Howell must serve at least 21 years after admitting their murders, while his former lover Hazel Stewart was given a minimum 18-year sentence.