Teenagers arrested over SDLP Coagh petrol bomb attack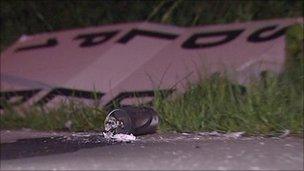 Two 17-year-olds have been arrested in connection with a petrol bomb attack on a car in Coagh, County Tyrone,
The car which belonged to a SDLP canvasser was targeted on Thursday night.
Several canvassers, working on behalf of assembly candidate Patsy McGlone, had seen someone removing SDLP campaign posters before the attack.
One of the canvassers later discovered a smoking object under their car. Nobody was in the vehicle at the time.