New appeal about Newry A1 van bomb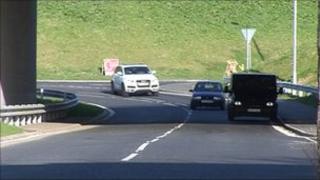 Detectives investigating a van bomb on a road near Newry have issued a new appeal for information.
Hundreds of motorists drove past the 500lb bomb, which was found in the vehicle under the Newry bypass on the A1 earlier this month.
Police want to hear from people who were in Newry's Patrick Street at about 2200 BST on Thurdsay 7 April.
They especially want to identify a man who used a phone box outside the South Eastern Regional College east campus.
Anyone with information can call the incident room on 028 9056 1912 or information can be given anonymously to Crimestoppers on 0800 555111.
Police carried out a review into why motorists were allowed to drive past the van containing the bomb.
The PSNI said a cordon had been removed by motorists.
Army bomb experts carried out several controlled explosions on the vehicle before it was removed.