Tom Elliott: NI losing out to Dublin over flight tax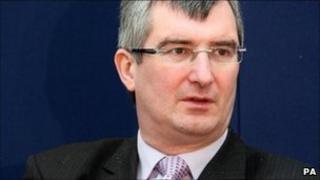 NI is losing out on transatlantic air routes because the executive has failed to tackle tax discrepancies, UUP leader Tom Elliott has said.
Mr Elliott said the lack of a plan to offset Air Passenger Duty meant "Stormont is backing Dublin over Belfast".
"Economy and business passengers are levied at £60 and £120 compared with three euros in Dublin," he said.
"This means Northern Ireland is off the radar for international carriers."
In a speech to the Northern Ireland Chamber of Commerce, Mr Elliott said this "tax disadvantage" meant "there is little or no prospect of re-establishing a direct service to Canada or developing the US market".
'Dick Turpin taxes'
"Airlines are giving Northern Ireland a very wide berth because it simply wouldn't be sensible to fly here and have to pay these 'Dick Turpin' taxes when down the road in Dublin, they get away with three euros," he said.
"Indeed, so grave is the situation that I understand Continental are reviewing the Belfast-New York service and in the past few days, there has been renewed speculation that the airline might be forced to terminate the route."
Mr Elliott said Northern Ireland's economy continued to lag behind the rest of the UK "in the same way that for decades after the 1861-65 American Civil War the southern states lagged behind the northern ones".
"A new and hopefully post-conflict era for Northern Ireland means that we have to reassess how we organise and finance ourselves," he said.
Mr Elliott added: "The solution to rebalancing our economy lies in three actions: growing the private sector; enhancing the power of the social economy to liberate those currently shackled in the poverty trap, and ensuring each and every public service job has meaning and purpose for the post holder and public alike."