PHA and Unison team up for organ donor initiative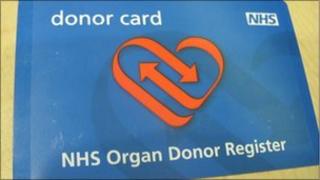 The Public Health Agency (PHA) has teamed up with public sector union Unison to promote a workplace initiative to encourage organ donation.
The PHA says only one in four people in Northern Ireland has joined the Organ Donor Register.
It hopes the partnership with Unison - which has 40,000 members in NI - will help to change that.
The PHA has targeted an increase of 1% (17,000 people) on the donor register by the end of 2011.
Dr Eddie Rooney, chief executive of the PHA, said: "With member welfare and the health of the people of Northern Ireland top priorities for both of us, we believe that it is only fitting for the two organisations to join forces to save lives.
"I was thrilled when Unison agreed to come on board and help us in our quest for everyone in Northern Ireland to sign up to the Organ Donor Register.
"Already, Unison members have been more than willing to come forward. But the message is the same for everyone who has not yet signed up - please do so today."
Unison's Patricia McKeown, added: "I was more than happy to help boost the Organ Donor Register and urge our members to sign up.
"It is something I am very passionate about. I hope to extend this agreement between Unison and the PHA, across the Irish Congress of Trade Unions as soon as possible.
"This is a great opportunity for Unison to be part of something very rewarding and help save lives."