Ray Houghton and Ronnie Whelan withdraw from RTE show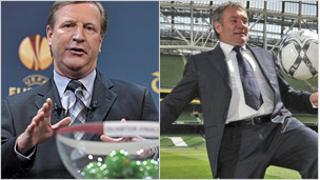 Liverpool supporters in NI have said they are pleased that former players Ronnie Whelan and Ray Houghton will not appear on an Irish TV programme sponsored by The Sun.
Liverpool fans boycott the Sun which made a number of unsubstantiated claims about supporters' behaviour during the Hillsborough tragedy.
Whelan and Houghton were originally scheduled to take part in the live May 1 programme but will not now feature. Three other guests will take their places.
Current Liverpool players do not have any involvement with The Sun and the club said it was inadvisable for new players and up-and-coming stars to have any contact with it.
Supporters have refused to buy it since the days following the disaster in 1989 when it printed allegations that some supporters pickpocketed and urinated on victims.
Antipathy
"RTE Sport can confirm that the panel for the Premier Soccer Sunday live programme will consist of John Giles, Kenny Cunningham and one additional panellist, to be confirmed," a spokesperson for the broadcaster said.
"Ronnie Whelan and Ray Houghton are no longer appearing on the panel on May 1."
Ray Houghton said he did not wish to comment on the issue.
"RTE have put out a statement and I do not have anything to do add to that," he said.
Ronnie Whelan could not be contacted.
Pat McDermott, treasurer of West Belfast Liverpool Supporters Club, said members had been discussing the issue on Monday night.
"From the feelings expressed there, I think people will be delighted that they aren't taking part in the show," he said.
"Non Liverpool supporters do not realise the levels of antipathy of Liverpool fans towards the Sun and by extension the Irish Sun."
The Irish Sun said it did not wish to make any comment.