Translink apologises for passengers' three hour delay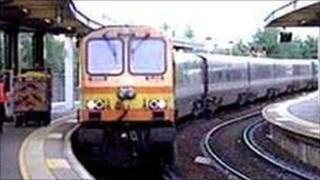 Translink has apologised to passengers who spent three hours sitting on a stationary train waiting for engineers to fix a fault on Tuesday.
The train, which was on the way to Belfast from Coleraine, was eventually fixed and was able to return to Ballymoney where passengers then set out again for the city.
The journey which normally takes an hour, took more than four.
Passengers have complained about a lack of information.
One woman, Rhonda, said staff on board the train did not keep passengers informed about what was happening and they were not given details on how to get a refund.
Frustration
"They had absolutely no idea how long it would be. We thought it would be half an hour at the most but it turned out to be three hours," she said.
"The older ones, who had appointments at the hospital, were quite upset."
Ciaran Rogan from Translink said he could understand passengers' frustration.
He explained that the train had a mechanical fault and that engineers were on the scene as quickly as possible to assess the problem.
In response to complaints from passengers who were on the way to the airport, he said Translink had organised taxis for them.
"There are always lessons to be learned," he said. "We say sorry, we fix the problem, take a look at what went wrong and what we could have done better and we'll certainly be doing that."