NIE safety campaign combats 'life-changing' injuries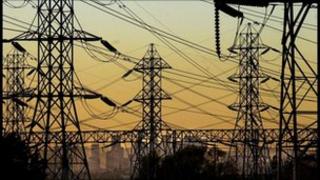 More than 65,000 homes, schools and businesses lost power supplies last year, and 19 people were injured due to damages to the electricity network.
The figures were released by Northern Ireland Electricity (NIE) on Tuesday in a campaign to highlight the dangers of working near electricity equipment.
NIE encouraged those who work near such equipment to familiarise themselves with the relevant safety guidelines.
Ten people have died since 2001 after making contact with power lines.
Roy Coulter, director of NIE Health and Safety, said that many of the injuries had been "very life-changing".
"Any contact with live electricity equipment can result in a fatality and contractors must follow correct safety procedures to keep all those on site safe," he said.
The majority of damages have occurred to overhead power lines and underground cables during digging and excavation work.
Speaking to the BBC, Mr Coulter encouraged those working near the electricity network to "look up, look out", and to familiarise themselves with NIE safety guidelines.
Safety procedures
NIE said this year has seen a drop in the number of damages to the network, which they attribute largely to the downturn in building and construction work.
However, Mr Coulter reminded contractors that they had a duty to abide by NIE safety procedures.
In the last year, NIE has sought over £1.3m in repair costs from contractors and individuals who have damaged the network.
Mr Coulter made it clear that NIE would continue to penalise those who ignored safety provisions.
"NIE will continue to seek financial recompense from contractors and individuals who damage the electricity network," he said.
Ken Logan, principal inspector with the Health and Safety Executive, welcomed NIE's campaign.
"Electricity demands our respect - it has killed and will kill again if proper planning and management control are not applied to work in the vicinity of services," he said.