Delayed RISE sculpture on Broadway roundabout under way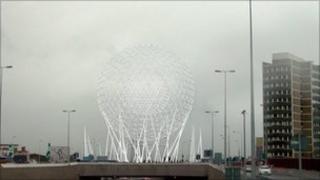 Work is under way on the biggest public artwork ever commissioned in Northern Ireland.
The project, named RISE, consists of two large globes cast in silver and white steel, and will be situated on the Broadway roundabout in west Belfast.
When completed, the sculpture will measure 37.5 metres (123ft), three metres taller than the Albert Clock.
After significant delays, the total cost of the project stands at £486,000.
According to Belfast City Council figures, £330,000 of this came from the Department for Social Development, £100,000 from the Arts Council of Northern Ireland, and £56,000 was supplied by council itself.
A spokesman for Belfast City Council said that the schedule for the project had always been "fluid" and could therefore not be said to be behind schedule, despite taking over two years to get to this stage.
He said "significant technical problems" had been encountered on-site, particularly in relation to the troublesome Broadway underpass, which resulted in work being postponed.
It is not the first time the underpass has been a headache for the council, as it famously flooded with over 20ft of water during torrential rain in 2008.
RISE
RISE is the work of Nottingham-based artist Wolfgang Buttress, whose work was selected from over 40 competing submissions in 2008.
There had been a previous winner, American artist Ed Carpenter. However his plans for a flower-like structure entitled 'Trillian', were scrapped after escalating steel costs threatened to increase the cost of the project by about £200,000.
Mr Buttress' sculpture will be remotely lit at night, and is said to represent the rising of the sun and a new hope for the future.
The council says the majority of the project budget has been spent in Northern Ireland, "helping to sustain 140 jobs".
The sculpture itself was manufactured at the M Hasson and Sons Ltd steel works in Rasharkin.
The council claimed that RISE will be seen by some 65,000 people every day, as it is situated on one of Belfast's main arterial thoroughfares, the M1 and Westlink.
And that doesn't include the 2.5 million passengers who will see it from the sky as they fly in and out of George Best Belfast City Airport each year.
After numerous setbacks, work on the project is now under way, and is expected to be completed by the end of June.