Derry pensioner 'awoken by watch thief'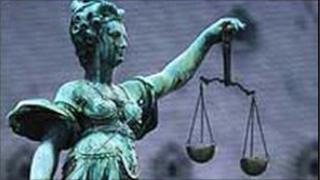 A pensioner woke in bed to discover a burglar trying to take a watch off her wrist, the High Court has been told.
Raiders who ransacked the 84-year-old's Londonderry home stole cash, jewellery and a 100-year-old glass jar which belonged to the victim's mother.
A man suspected of breaking into the house at Prehen Park was linked by a fingerprint on a window.
Shane McAnenny is also accused over a later cash robbery at a convenience store in the Waterside area.
The 24-year-old, of Dervock Place, Derry, faces two counts of burglary and theft.
A judge was told he was detained last month after police forced their way into his home and found him hiding with a co-accused.
Mr McAnenny was said to have returned to the city after spending six months living across the border in Donegal.
Crown counsel Nicola Auret said he was first arrested over the raid on the elderly woman's home last June.
The barrister told the court: "She was in her bed when at 2.15am she was awakened by someone trying to take her watch from her wrist.
"She opened her eyes to find a male standing over her. She shouted and he ran off."
'Sentimental value'
Ms Auret said car keys, £15 in cash, a gift voucher and gold chain were among the items stolen, as well as the jar which was of "great sentimental value".
None of the items have been recovered.
Following the fingerprint match Mr McAnenny was arrested and alleged two other men had been involved.
He denied being in the victim's bedroom or attempting to take the victim's watch, claiming to have left as soon as he realised an elderly woman lived there, the court heard.
The accused had been released on police bail, only to allegedly become involved in a raid with another man on a Vivo store in August.
Granting bail, Mr Justice McLaughlin indicated it would not be proportionate for the accused to spend the next four-five months in custody.
The judge imposed an alcohol ban, curfew and ordered Mr McAnenny not to leave Northern Ireland without notifying police.