NI legal aid row - more solicitors hand back cases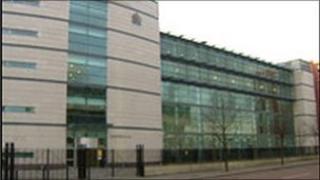 Another 11 law firms in Co Fermanagh are to stop work on serious criminal cases as part of an escalating dispute over legal aid fees.
The development emerged as solicitors for four men returned for trial on charges connected with a major cannabis factory in Belfast came "off record".
One of the legal representatives said the stand-off was now being rolled out.
The heightening row is over new legal aid rules introduced by Justice Minister David Ford.
Fees to solicitors have been reduced by 25% under changes in legal aid for Crown Court proceedings, while barristers rates will also drop by 20%.
Mr Ford has said the move will save more than £18m on ever-increasing and unsustainable expenditure on legal aid.
But lawyers claim it will represent a total pay cut of 53% and make it impossible to prepare cases properly and ensure clients receive a fair trial.
Defendants now being sent for Crown Court trial now face the prospect of having no legal representation.
The latest four to be left without a lawyer are four Chinese nationals charged with cultivating cannabis and possessing Class B drugs with intent to supply.
'No alternative'
Long Huang, 32, Jia Xiang He, 28, Song Shi, 19, and Xian Yong Cao, 28 - all of no fixed address - were arrested following the discovery of nearly 1,000 plants at a house in east Belfast last July.
All four were returned for trial on a date to be fixed following a preliminary enquiry at Belfast Magistrates' Court.
Brian Archer, a solicitor for one of the accused, said it was with regret that he and his colleagues were coming off record, but that felt they had "no alternative".
Outside the court Fergal McElhatton, who had been representing another of the suspects, insisted the action was now widening.
He said: "My understanding is that in terms of Enniskillen Magistrates' Court alone 11 firms have advised they will come off record on any preliminary enquiry, as and when they are held, and will not appear at the Crown Court.
"The reality is this is happening across the north. This has been rolled out in Derry, Downpatrick and Craigavon."