Northern Ireland beaches among the UK's tidiest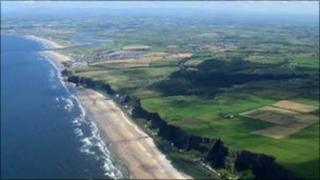 Northern Ireland's beaches are some of the tidiest in the UK, according to the latest Beachwatch survey.
Only the Channel Islands are tidier according to the Marine Conservation Society which carried out the survey last year.
While beach litter levels in the rest of the UK were up, Northern Ireland's beaches had 37% less compared to 2009.
The results also show that the amount of litter originating from the bathroom is also up but not in Northern Ireland.
"That may be because new sewage treatment plants recently opened along the north and east coast," BBC Northern Ireland's environment correspondent, Mike McKimm said.
"We have gone from primary treatment, which often meant little or no treatment, to quite sophisticated secondary treatment which not only cleans the water but also removes bathroom debris as well.
"But people should still bin all such rubbish, not flush it down the loo as not every sewage processing plant copes that well."
The Marine Conservation Society has condemned the rise in bathroom rubbish found across many UK beaches and urged the public to "bag it and bin it - don't flush it".
MCS Beachwatch Officer, Lauren Davis, said the figures revealed a shocking picture of what people do in the privacy of their own bathroom.
"Increasingly people seem to be putting things down their loos that belong in the bin.
"Cotton buds, condoms, tampons, tampon applicators and sanitary towels are being flushed away with an 'out of sight, out of mind' perception."
The main source of rubbish on beaches in Northern Ireland was 'ordinary' litter from the public, much of it plastic debris.
Eight beaches were surveyed last year in Northern Ireland with almost 1,222 litter items recovered per kilometre of beach.
That compares favourably to the UK average of 1,969 items per km.
But the MCS said that as only eight beaches were surveyed in Northern Ireland, they were not confident just how representative it is of all the beaches.