Weapons accused Daniel Turnbull is refused bail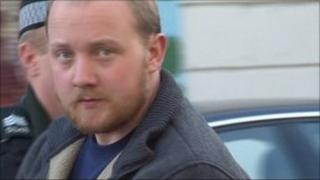 A County Tyrone man accused of having weapons linked to dissident republicans must remain in custody, a High Court judge has ruled.
Daniel Turnbull of Strule Park, Omagh, was refused bail on Wednesday.
The 30-year-old was arrested after police seized a revolver, sub-machine gun and ammunition from cars in parts of Tyrone last October.
Latex gloves, body armour and combat-style clothing were also recovered.
A number of other suspects were detained with Mr Turnbull on suspicion of dissident republican activity.
Mr Turnbull faces charges of possessing firearms with intent, having ammunition in suspicious circumstances, and possession of articles for use in terrorism.
Opposing his application for bail, a Crown lawyer claimed there was a risk of further offending if he was released.
She added: "The threat level (from dissident republican paramilitaries) within the UK is currently severe.
"These groups just carry on offending."
Defence counsel Gary McHugh argued that the flak-jackets his client allegedly had were for heavy-duty outdoor wear.
"Mr Turnbull has always made the case that he has been involved in hill walking and outdoor pursuits," he said.
Mr McHugh also contended there was a lack of DNA evidence to connect the accused.
Refusing the application, the judge said it was accepted that a prima facie case exists against Mr Turnbull.
Pointing to the alleged risk of further offending, Mr Justice McLaughlin said: "A community that doesn't recognise that is not protecting itself sufficiently."