Man in court over attempted murder of senior loyalist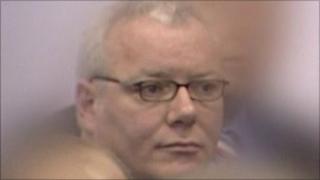 A man has appeared at Belfast Magistrates Court charged with attempted murder after a senior loyalist was stabbed in a supermarket.
Harry Stockman, 50, suffered multiple stab wounds during an incident at a Tesco store on the Ballygomartin Road in north Belfast on Wednesday.
David Madine, of Innishargie Gardens in Bangor, appeared in court on Thursday.
The court heard that Mr Madine, 40, made "an open and frank admission" of his involvement to police.
Mr Stockman remains in a stable condition in hospital.
Opposing Mr Madine's application for bail, police expressed fears for his personal safety.
Suitable address
Concerns were raised that he may be attacked due to the stab victim having loyalist connections.
Defence lawyer Denis Moloney said the fears could be eased by the accused living at a suitable address well out of the area.
District Judge Fiona Bagnall refused bail but indicated the case could be reviewed if a suitable address could be supplied.
Mr Moloney told the court that the accused had known Mr Stockman for up to 20 years.
It was claimed that there had been a fall-out between the pair before the chance meeting occurred while Mr Madine was shopping.
Mr Moloney stressed there had been nothing premeditated and that his client had offered a sincere apology to staff and customers.
Mr Madine was remanded in custody to appear again via video-link next month.