NI widower in plea over screening for bowel cancer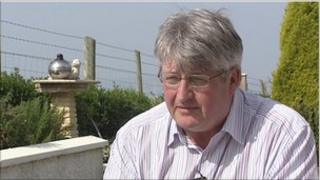 The husband of a County Down woman who died from bowel cancer a fortnight ago says the health authorities must roll out the screening programme across NI "as quickly as possible".
Rosie Kirker Miller, who was from Bangor, was 46 when she died.
Her husband Martin said early detection could have saved her life.
He said he wished the health authorities "would just hurry up" with the screening programme.
"I lost my wife two weeks ago and she had spent weeks and months in agony," he said.
"It's not something you want to see - believe me.
"The last fortnight has been a mixture of grief and disbelief.
"We all miss her so much."
Rosie, who has two sons, was well known in the local world of public relations.
But after she was diagnosed with bowel cancer in 2009, she began campaigning for better screening and for the public to become better informed of what symptoms to look out for.
Every year in Northern Ireland around 400 people die from the disease.
Educated
Just weeks before her own death, Rosie spoke to BBC Radio Ulster's Talk Back programme.
She said: "Bowel cancer is the poor relation, even though it's the second biggest killer.
"Yet it is one of the most curable cancers if it is caught soon enough.
"People should be educated about the changes in their bowel habits especially if there is a family history.
"It shouldn't be embarrassing, you are better knowing.
"Believe me, I wouldn't wish this on anyone."
Compared to the rest of the UK, Northern Ireland is the last region to roll out the bowel cancer screening programme.
It involves a self-testing kit being posted to people who fall within a certain age category.
While the procedure is simple it might cause some embarrassment.
A person is expected to take a sample of their own faeces and return it to their local health trust where it is screened.
A 2009 deadline was missed due to a lack of funding.
Two years on and three of the five health trusts, including the Northern, the Western and the South Eastern trusts are currently screening men and women aged between 60 and 69 years.
Liz Atkinson from the Ulster Cancer Foundation says the current screening system is a post code lottery which is grossly unfair.
"The Ulster Cancer Foundation is both frustrated and really disappointed about this inequity within the system," she said.
"It really is a post code lottery.
"This is a life saving programme, but at this moment only half of the population are entitled to it."
The Belfast and the Southern Health Trusts have yet to start their screening.
In a statement to the BBC, a spokesperson for the Public Health Agency said no definitive dates to commence screening in the remaining trusts have been agreed as yet.
While Northern Ireland plays catch up, the rest of the UK is ploughing ahead.
Legacy
England has been screening people for the past five years and has increased its age group to 74 years.
In Scotland those between 50 and 74 years are now eligible, while in Wales it includes those aged between 60 and 71 years.
The self-testing kit is proving successful.
In the past year in Northern Ireland, 40 people have tested positive for bowel cancer with a further 94 being detected as high risk.
Martin Miller says the screening is proof that lives can be saved.
He says while it is too late for Rosie, she would want others to be given the chance of survival.
"Rosie's legacy will live on," he added.
"We promised her that we will continue trying to work towards reaching her goal in getting screening introduced and make people, especially the health professionals, better informed about the disease.
"We will also put pressure on the NI politicians to get their act together and to stop arguing over daft matters which really aren't important when you have someone you love dying in hospital.
"If we can't find money for health care, well then, we are all just miserable."