Dismissed NI Water director to sue Conor Murphy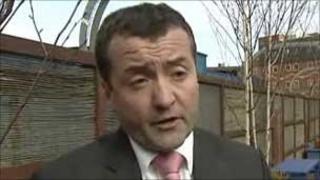 A former director of NI Water is suing Regional Development Minister Conor Murphy and his department over his dismissal from the utility company.
Declan Gormley said he had served writs on Mr Murphy and the Department for Regional Development.
He claimed attempts to resolve the issue by other methods were rejected.
"I'm prepared to pursue this in any way possible. I did not want to get into legal action, I did not want to issue any writs," Mr Gormley said.
"I have made countless attempts throughout the past year to try to get this matter resolved in a way which would avoid both costs to taxpayers in having to defend any legal action and obviously any other legal costs that would be incurred.
"All those overtures have been rebuffed."
Mr Gormley was one of three board members who were dismissed along with the company chairman Chris Mellor by the regional development minister following an independent report.
The report said there had been a "serious breakdown in the governance and control framework" of the company.