Blackmail victim was sent bullets in post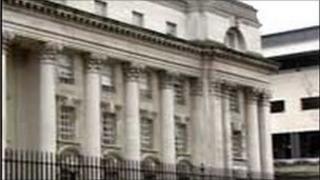 Bullets were sent in the post to a Mid-Ulster businessman and his wife as part of an alleged £10,000 blackmail plot, a High Court bail application has heard.
In a series of phone calls, he was warned his children would be targeted if the money was not handed over.
Four men, including an employee of the alleged victim, have been charged with involvement in the conspiracy.
Another man, Gary Fulton, was refused bail due to risk of intimidation or interference with the inquiry.
The 38-year-old, of Timakeel Lodge, Portadown, faces a charge of blackmail.
He was arrested along with his co-accused following a police swoop on premises in the town last month.
9mm bullet
The alleged offences began on 22 February when the victim, identified only as Witness A, and his wife received separate letters to their home and business address, the court was told.
Crown counsel Fiona O'Kane said each letter contained a 9mm bullet.
She claimed Witness A then met with a man who had worked for him for six years and who was now one of the accused.
At this stage business cards were handed over to that suspect, with a request to contact the relevant people in a bid to sort the matter out, the court heard.
Mrs O'Kane said in one of a series of threatening calls, he was given two days to come up with the money.
"He was told there would be retaliation starting with his children," the barrister claimed.
Later a carton of petrol was left on the front seat of a vehicle connected to Witness A.
Containing £10,000
A telephone call was then made asking what he thought of "the wee present" left for him, according to the prosecution.
A police operation was launched, leading to the arrests after a bundle containing up to £10,000 was handed over.
Investigations were then said to have centred on a property at Westland Road, Portadown.
Four mobile phones seized during the swoop are being analysed in an attempt to establish any contacts between the suspects.
It was confirmed that Mr Fulton is not believed to have made the threatening telephone calls to Witness A, who is now living at an undisclosed location.
His barrister claimed there was only a circumstantial case against him, based on his arrival at Westland Road after the money was brought there.
But refusing bail, Lord Chief Justice Sir Declan Morgan held that at this stage there was a risk of further threats or intimidation to the alleged victim.
He added: "Blackmail of this kind is a highly threatening offence and tends to be characterised both by its persistence and by a degree of organisation."