Omagh man 'poured petrol into victim's mouth'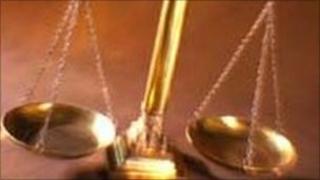 A man with 408 previous convictions has been refused bail over an alleged attempt to pour petrol into another man's mouth before lighting matches.
Malvern Dobbin of Deverney Park in Omagh is accused of several charges including attempted murder, false imprisonment and assaulting police.
The victim alleges that he was dragged from a flat by several people on October 23 last year but managed to escape.
He has said the men were preparing to light petrol they had poured over him.
Malvern Dobbin's previous offences include 20 assaults on police officers and 18 for riotous behaviour.
Omagh Magistrates Court was told that the victim, who identified Mr Dobbin and two others as his attackers, had received threatening calls for making statements to the PSNI.
'High risk'
He had been taken to the Erne hospital on the night of the attack where nurses said that there was a strong smell of petrol and he was traumatised.
Mr Dobbin has accepted he was in the victim's company that night but denies carrying out an assault or pouring petrol over him.
Defence solicitor Dara Montague stated that the other two people arrested in relation to the attack had been released after police interview and their case is still being considered by the Public Prosecution Service.
She pointed out that those suspects are "unconditionally" still at large while her client has been in custody for six months.
Ms Montague added that the alleged victim was unable to identify the person who poured petrol down his mouth. She added her client claims he had gone to the assistance of the man.
Refusing bail on the basis that Mr Dobbin was likely to commit further offences, District Judge Mervyn Bates said: "Attempted murder is a serious offence. His criminal record speaks volumes for the risk of further offending.
"It is a very high risk."