NI businesses launch campaign against parking charges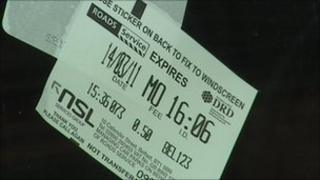 Businesses across Northern Ireland have launched a campaign against plans for increased on-street parking charges.
The Department for Regional Development is planning to raise millions of pounds in revenue by increasing the charges.
Thirty towns could have to start paying for parking for the first time. Fines for parking illegally may go up to as much as £90.
The campaign against the plans is being led by the Northern Ireland Independent Retail Trade Association.
It has the support of the British Retail Consortium, Pubs of Ulster, Ulster Chemists' Association and Chambers of Commerce in the 30 towns which are being proposed for the car park charges.
Colin Neill, the chief executive of Pubs of Ulster, the plans would hit small retailers which were the life blood of the economy.
"It's more than just an inconvenience, it's a tax on the small independent retailer who doesn't have the advantage of out-of-town sites," he said.
He said introducing similar charges to out-of-town sites would "help to level the playing field".
Mr Neill said the move would change the whole psyche of people shopping in town centres which he said were the "hub of communities".
"It's not just about shopping, there's a whole social element there," he said.
Peter Wright, from the Ulster Chemists Association, also said the move would be a further tax on small businesses.
"We're all threatened by out-of-town shopping centres and we feel this is a way of forcing people out of town centres," he said.
"You've got to look at this in terms of convenience for people and why change something that works."
The Department for Regional Development hopes to raise £37.5m over the next four years from extra car parking charges.