Man hit with hammer by hijackers in Newtownards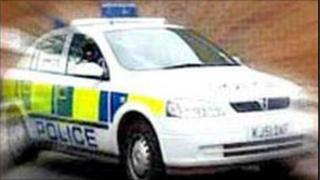 A man was hit on the head with a hammer during one of two hijackings in Newtownards on Wednesday night.
In the first incident, at Londonderry Park on Portaferry Road, two masked men smashed the back window of a woman's Mitsubishi Shogun with a hammer.
About 10 minutes later at Kiltonga Industrial Estate, three masked man, one armed with a hammer, approached a couple in a Vauxhall Astra.
They struck a man on the head with a hammer and stole the car.
The victim's injuries are not thought to be life threatening.
The thieves then drove away in the couple's black Astra and a blue Ford Fiesta they had arrived in.
In the earlier incident, the masked men demanded that the woman hand over the keys of the car, but she refused.
A member of the public saw them smashing the window of the vehicle and approached, but the two men then threatened him and said they would take his car.
The man ran out to the Portaferry Road to get assistance from other members of the public, and the thieves made off, smashing the window and rear lights of a parked BMW 5 series car as they left.
The owner of the Mitsubishi Shogun and the member of the public who came to her aid have no physical injuries, but were left very shaken by what had happened to them.
Detectives believe the incidents were linked, and are to study CCTV footage in an effort to identify the attackers.
They want to speak to anyone who was on the Portaferry Road in Newtownards or near the Duck Pond and Kiltonga Industrial Estate, any time between 2100 BST and 2200 BST on Wednesday.
They also want to speak to anyone who noticed a blue Ford Fiesta with a number of men on board, anywhere in Newtownards, before or after the hijacking incidents.