Trip wire would have set off Annadale Embankment bomb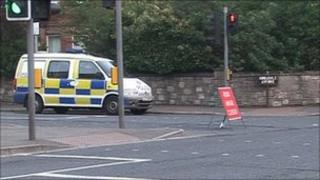 Police have said the bomb left on south Belfast's Annadale Embankment on Monday night would have been triggered by a trip wire.
More details of the attack were released as police issued a new appeal for information.
Police were lured to the area by a hoax call saying a woman was in distress.
Detectives want to talk to a group of young people in two cars on the embankment shortly before police were called to the scene at 2348 BST.
One of the cars appeared to have run out of petrol.
PSNI Detective Superintendent David Cunningham said it was "only by good fortune" that police officers or members of the public were not killed.
"The device was small but viable," D/Supt Cunningham said.
"It was designed to detonate as officers went through a gate into a wooded area, triggering by a trip wire attached to the fence at the top of the Annadale Embankment where the S-bend on the road leads onto Annadale Avenue."
He said a hoax 999 call gave information about a man and woman arguing at the gate and that the woman appeared to be in distress.
When police arrived a short time later they opened the gate to check out the area.
"We want to talk to a group of young people who had stopped in two cars close to the gate at about 11.40pm on Monday night," he added.
"They could well have significant information which will assist this investigation.
"We think the cars might have been a dark-coloured Peugeot 206 and a small silver car."
He stressed the young people had done nothing wrong, but might have information that could help police.
Anyone with information is asked to contact detectives at North Queen Street, telephone 028 9056 1804 or phone Crimestoppers on 0800 555 111.
No-one has admitted responsibility for the attack, but dissident republicans are being blamed.