Geoff Kerr widow pleased by Darren Kernohan sentence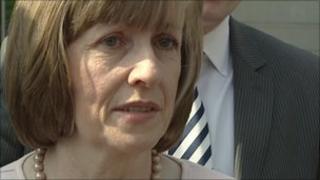 The widow of a businessman shot dead at his home during an attempted robbery has said his killer's jail sentence was close to her "prayers being answered".
Darren Kernohan, 35, of Moss Drive, Antrim, was given a life sentence for the murder of Geoff Kerr, 60, at his Templepatrick home in April 2009.
On Thursday he was told he would serve at least 22 years in jail for the killing.
Mr Kerr's widow, Sally, let out a gasp in court when Kernohan was sentenced.
Kernohan had admitted firing the fatal shot, but had claimed he had done so accidentally during a struggle with the victim.
His accomplice Martin Fleming, 51, from Churchill Road in Larne, County Antrim, was told he will serve at least 16 years of his life term in jail before even being considered for release on licence.
The judge told Fleming he was giving him a discount because he was a secondary party to the killing and because he had pleaded guilty.
Outside Belfast Crown Court, Mrs Kerr said she had "mixed feelings" but that the family's "best expectations" had been achieved.
"The term of 22 years is actually a factor that on this occasion had been in my mind for Kernohan and 16 years for Fleming may have been slightly more than we anticipated, so in that sense we are as pleased as we can be," she said.
"We may have been expecting something in the region of 18 or 19 years (for Kernohan) which would have been very difficult to accept, so to have anything more than that was acceptable - it is almost as if your prayers were being answered."
Mrs Kerr also said the family felt they had done the best they could for her husband.
'No remorse'
She added:"Nothing is ever going to bring him back, but at least tonight I will be able to tell him just what the ultimate outcome has been and perhaps we can start to move on with whatever is going to become of the rest of our lives."
Mother and daughter Margaret Deery, 63, and Siobhan Clyde, 34, both from Willowtree Park in Newtownabbey, who admitted charges of perverting the course of justice in relation to the killing, were each handed 12 month jail terms which were suspended for two years.
Mr Justice Hart handed the same term to Laurence Desmond Kincaid, 60, from the Upper Hightown Road in north Belfast, who pleaded guilty to withholding information about the murder.
The judge said he was satisfied that contrary to his assertions during the trial, Kernohan had "shown no remorse whatever throughout these events".
He said the murder was aggravated by Kernohan's criminal record which contained offences of serious violence, possession of a sawn-off shotgun and killing three people by dangerous driving.
In the driving incident in 2001, he was over the legal alcohol limit and was fleeing from police. He pleaded guilty to causing death by dangerous driving.
The judge said Kernohan was on probation for having the shotgun when he killed Mr Kerr.
"He refused to answer questions during interview and it was only when it was clear that the DNA evidence linked him to the scene that he constructed this lying account, as the jury has found it to be, to explain his actions," Mr Justice Hart said.
"I consider that there are no mitigating factors and that in view of the aggravating factors to which I have already referred the appropriate minimum term which he must serve before he can be considered for release is one of 22 years imprisonment."